As 2010 comes to a close, I put together my end of the year lists of best in entertainment- films, television, albums, books, etc. Considering no new TV shows should begin in the next 12 days, I'll begin with this medium.
This year's determination of best television came through one concept - how fast I would watch this after recording it on our DVR. Some shows sat on there for weeks before I got around to them. These top five did not:
5.)
The Inbetweeners
(BBC America): Following the lives of four 17 year old Brits, it's like the humor of American Pie minus the Americans. Episodes on their road trips and holidays are clearly the best and very inappropriate. The British humor mixed in with irreverant laugh out loud high school situations that will not be found on an American airwaves. Plus, it remind me of my overseas buddies from camp. The 3rd and final season is currently being shown in Britain and a film is in the works. In the fashion of the terrible Coupling or the Office, an American pilot will be shot soon.
4.)
Tosh.o
(Comedy Central): This past June when I was traveling, I woke up to a buddy laughing way too loud at 7 in the morning. It was my first introduction to Daniel Tosh and his hysterical Soup-like web rehashes of the week. As funny as Tosh's inappropriate apathetic comments are, the best parts are his web redemptions. These are opportunites for people whose lives are forever ingrained in You Tube to explain themselves and allow us a second opinion. The best include the "I like turtles" kid, Britney Spears uber-fan Chris Crocker, and the guy who got stuck in the elevator for 41 hours. New episodes return January 11.
3.)
It's Always Sunny in Philadelphia
(FX): This is starting to seem like my maturity is decreasing as the years increase. Anyway, it's impossible not to put Sunny on this list. The Christmas episode from last week is a classic gem, probably the best "very special Christmas "episode since Al Bundy's version of "It's a Wonderful Life." Danny DeVito's is at his finest and Mac, Dee, Charlie, and Dennis are as mean, egotitistical, and superficial as Kramer, George, Elaine, and Jerry always wanted to be.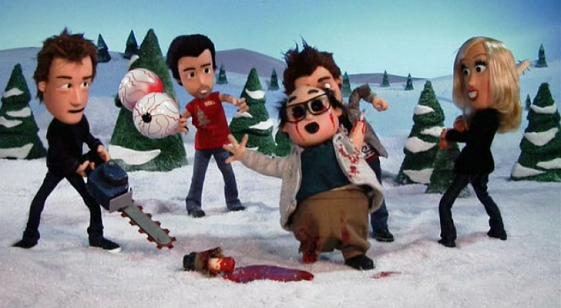 2.)
Dexter
(Showtime): Why did someone not tie me down and make me watch Dexter years ago? Best new entertainment for me of the year (yes, I only got into Dexter a few months ago-I'm sorry). The writing and character depth is second to none; how do they do so well at making you want to care so much about a serial killer? The season one finale knocked me off my feet and I can't even wait to see what's in store with a baby on the cover of season three DVDs. If you have not seen Dexter, add it to your Netlix Instant queue today.
1.)
LOST
(ABC): Say what you want about the finale, LOST may be the best television series of all time. Religion, mythology, philosophy, dark comedy, mystery, and a little romance merged pefectly together. Plus the conversation with friends between episodes made for some thought provoking insomnia induced debate. The anticipation of the final season did not disappoint whatsoever and neither did the finale, in my opinion. Another series you need watch on Instant Netflix - twice.
Honorable mentions:
Breaking Bad
,
Raising Hope
,
Glee
,
Modern Family
,
How I Met Your Mother
Biggest disappointments this season: The Event, The Office, My Boys, 30 Rock